Largest Floating Tree
This year in Rio de Janeiro, Brazil, they have a floating tree that is 85 meters tall and decorated with 3.1 million lights. The tree weighs 542 tons!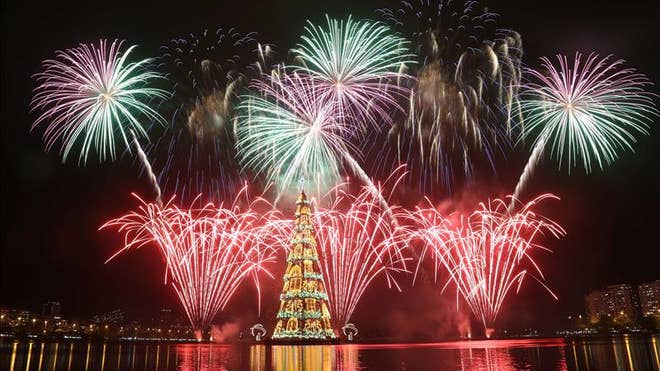 Largest Christmas Tree in Europe (Largest Christmas Spire)
In Dortmund, Germany the Christmas tree unveiled in November is 45 meters tall. The total display consists of over 1,700 trees and 1,300 lights. There is also a 4 meter tall angel at the very top of the tree.
Largest Living Christmas Tree
One of the tallest living Christmas trees in the world is 99.7 meters tall. This tallest Douglas fir tree grows in Oregon.
Largest Christmas Tree in the US
The tallest Christmas tree in the United States this year is 33.5 meters tall. It's displayed in Phoenix, Arizona. It weighed almost 11 tons but the decorations added almost 4. The tree was also covered with 833 liters of fire retardant for safety reasons.
Largest Upside Down Christmas Tree
The largest upside down Christmas tree can be found in France. The tree in Galleries Lafayette is 27 meters from top to bottom.